4xPip: Pioneering MT4 MT5 Programming for Automated Trading Excellence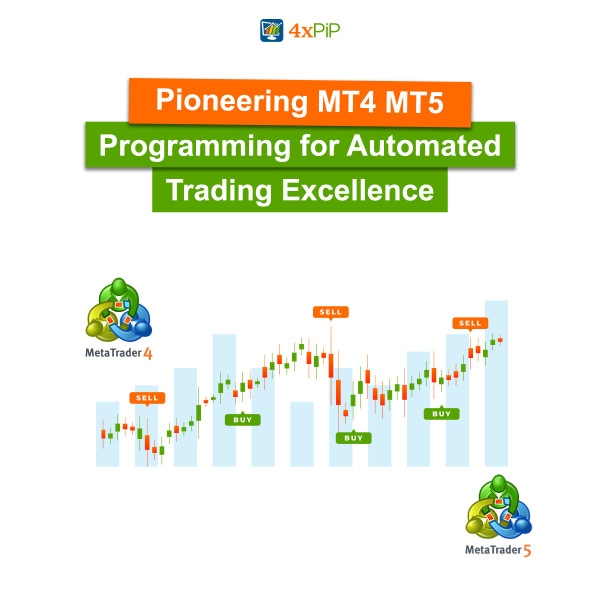 4xPip proudly offers a comprehensive range of innovative trading bots and solutions tailored for both MetaTrader 4 (MT4) and MetaTrader 5 (MT5) platforms. With a commitment to quality, high-profitability, and superior customer support, 4xPip empowers traders across various financial markets, including forex, crypto, commodities, stocks, and indices, to make intelligent decisions.
4xPip's arsenal of high-performing trading bots, equipped with advanced algorithms and analysis techniques, leverages candlestick patterns, price charts, and market trends to deliver exceptional results. These auto-trading Expert Advisors (EAs) are designed to determine the optimal movements to enter and exit trades on Metatrader 4 and 5.
Notably, 4xPip is a famous company for custom programming of Trading bot EAs and indicators where traders' strategy can be turned into autotrading robots. They stands out for offering high-performing trading bots at affordable rates, making automated trading accessible to traders of all levels. The company prides itself on its unwavering dedication to providing top-notch customer support, ensuring that traders receive the assistance they need to thrive in the world of automated trading.
4xPip's extensive collection of EAs caters to a diverse range of traders, including both manual and automated trading enthusiasts. Whether the users are involved in forex, stock, crypto, indices, or options trading, 4xPip has a solution to suit their needs. These versatile bots are capable of performing across all chart types and timeframes, offering flexibility and adaptability. Some of 4xPip's top-selling bots include Trade Manager, Dashboard Scanner, News EA, High-Performance Indicators, and Custom MetaTrader Bots.
At the heart of 4xPip's mission is a commitment to revolutionizing the financial trading landscape and helping businesses grow by providing forward-thinking trading solutions and embracing digital transformation. The company has successfully transformed over a thousand manual trading strategies into tireless 24×7 auto-trading EA robots, empowering traders to achieve their financial goals with efficiency and precision.
Interested users can contact 4xPip for custom programming of their indicators and EAs on MT4 and MT5 platforms Because 4xPip aims to deliver exceptional trading tools and build high-performing bots for its valued clients, fulfilling its promise with enthusiasm and responsibility. The company offers a wide range of trading EAs to enhance revenue, including Forex News integration, License system, indicators, and Telegram integration. 4xPip specializes in MQL, Pine scripts, Python, and C#, and its dedicated team is committed to spreading the power of automated trading across the globe.
For more information about 4xPip and its innovative automated trading solutions, please visit their website.
About 4xPip:
4xPip is a provider of automated trading solutions for the MT4 and MT5 platforms, offering a wide range of trading bots and EAs for various financial markets. With a focus on quality, accuracy, and exceptional customer support, 4xPip aims to empower traders of all levels to succeed in the world of automated trading.
Media Contact
Organization: 4xPip
Contact Person: Abdul Manan
Website: https://4xpip.com/
Email: [email protected]
Contact Number: +1 551 344 0181
City: Casper
State: Wyoming
Country: United States
Release Id: 0809236161